Registration and Activation
How to buy a license for STILL
If you wish to continue using a MIRAFX product you need to buy a license.
How you buy a license for a MIRAFX product
Download a trial version of the product from the Download STILL page and give it a try (note that the trial version will add a watermark on the generated images).

When you're ready to buy a license, go to the Buy page.

Choose the license type that suits your needs an click on the corresponding Buy Now button. A single user license allows you to activate the product on two computers.

Enter your billing information and click the [Pay] button. Make sure your email address is correct before submitting this form. This address will be used to send you the product serial number.

You will be transferred to PayPal for the final checkout where you will be able to choose from paying with a credit card or use your PayPal account.

Once you have paid you will receive both a receipt and a serial number by email.
I already have a serial number
If you have already received a serial number follow the instructions in the "How to activate your copy of STILL" section.
What if I don't have a PayPal account
You don't need a paypal account, Paypal will let you do a creditcard checkout.
Buying license with a creditcard
All our payment processing goes via the Paypal website. This allows you to either use your Paypal account (with several options: credit and debit card, bank transfer etc) or use your creditcard directly.
If you do not have a Paypal account you can still buy a license using your credit card by choosing the option to pay as a guest using a creditcard.
I didn't receive the email with my serial number, what do I do?
If you did not receive your MIRAFX serial number after purchase please contact us and send us a copy of your receipt.
How to activate your copy of STILL
Start STILL and select Help > Activate STILL from the menu. This will bring up a screen where you can register your copy of STILL.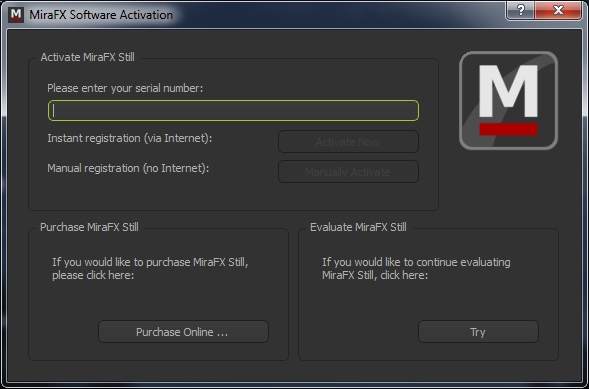 Instant registration (via Internet)
Enter your MIRAFX product serial number in the text field. Your MIRAFX Serial Number should be in the format XXXX-XXXX-XXXX-XXXX-XXXX.
After you entered your serial number click [Activate Now] to activate your copy. A confirmation message will tell you if the activation succeeded or not. If automatic activation could not be completed for some reason, you can manually activate the software using a web browser.
Manual registration (no Internet)
The manual activation screen will guide you through the activation process. Select the appropriate activation option from the list below and click [Next].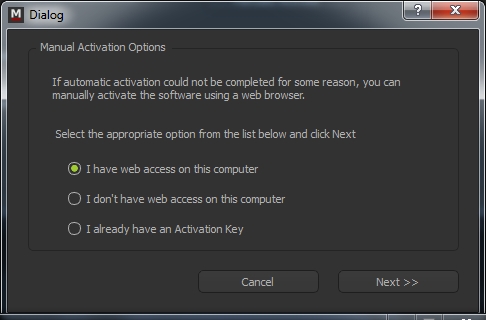 I have web access on this computer

Open a web browser manually.

Copy the link you see and paste into the address bar.

Copy the the activation key from the web page, paste it and click [Activate].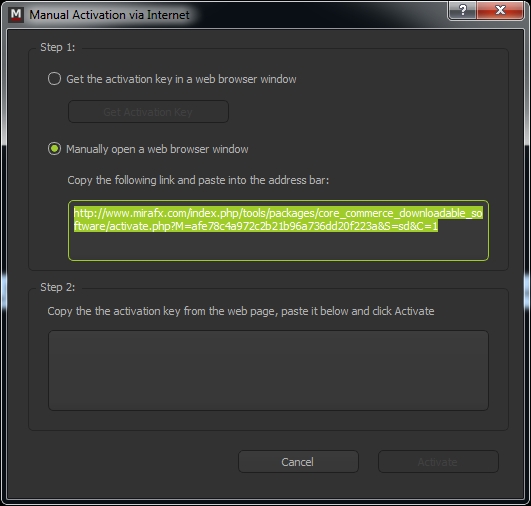 I don't have web access on this computer

Save the Activation Request ID by clicking the [Save] button.

Take the Activation Request File to a different computer that has an Internet connection

Open the Activation Request File in a web browser on that computer

A page containing a Download Activation File link will be displayed.

Download it and return to this computer.

Click the [Activate] button and select the activation file you have downloaded.
I already have an Activation Key. If you already have an activation key and would like to activate your product now, enter the Activation Key and click [Activate]. Save your product activation request id and activation key for future reference.