Batch convert camera RAW files to another image format
This tutorial shows how to convert multiple camera RAW files to a different format with STILL.
Importing camera RAW files into STILL
Select File > Import Image or click the Import Image tool button and browse to the location where your RAW image files are located. STILL has support for most camera RAW formats (cr2, crw, dcr, mrw, nef, orf, pix, ptx, raf). Select one or more images and click on the Open button.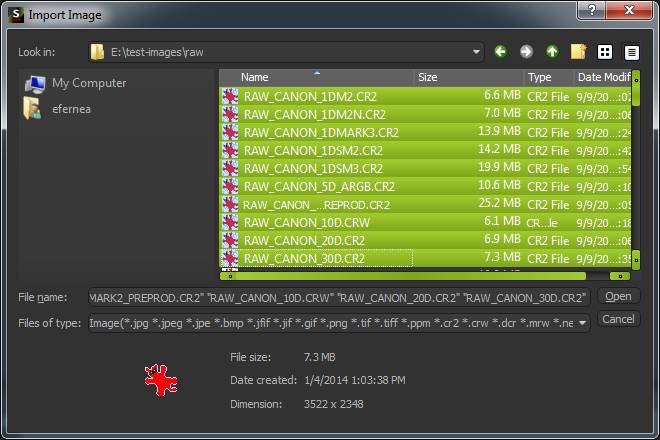 The imported camera raw files will be visible in the "Thumbnails browser" at the bottom of the screen. You can browse and preview the imported images by scrolling from left to right or click an image thumbnail to load it in Viewer (the central section of the window).
The Viewer lets you zoom in and out using the key and the Mouse Scroll Wheel or pan to a different part of the image (press the key and hold the Right Mouse Button while dragging).
Exporting the images to a new format
Select File > Export image sequence* or click theExport image sequence` tool button. The export dialog box will open allowing you to select the directory where you want your images to be saved and several export options.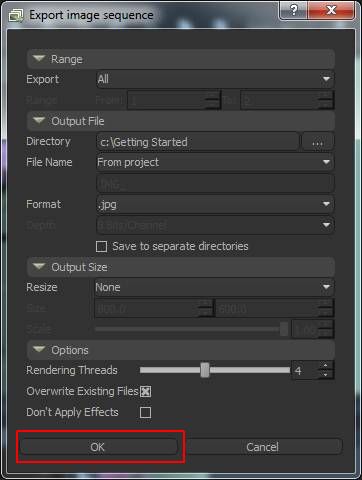 Select the image range you want to export ("All" to export all the images in the project), an output image format (JPEG, PNG, ...) and a file naming method:
Custom name: Allows you to specify a custom file name. STILL will append the index of the image for each output file (Image#1.png).

From project: Uses the names visible in the header of the Thumbnails browser.

From media: Uses the original media file names.
Optionally you can resize the output images to new dimensions by setting the resizing method, the dimensions or the scale.
Click OK and wait for the progress bar to complete.